Washington, D.C., July 9, 2009 - Reflecting on the life of Robert McNamara, who passed away this week on July 6th, the National Security Archive is posting this recognition of the extraordinary role he played in driving scholarly and policy reassessments of some of the most important and contentious U.S. foreign policy events in the latter 20th century. For most of the last two decades of his life, despite enormous criticism, McNamara took the lead in several series of historical investigations that have changed our understanding of the past and generated important discussions about how similar tragedies can be avoided.
Starting in the late 1980s, McNamara became the central figure on the American side of a ground-breaking series of "critical oral history" sessions that ultimately stretched over 15 years and involved some of the towering figures of modern history. In 1987, the first of several meetings with former officials involved in the Cuban missile crisis occurred at Hawk's Cay, Florida. It was McNamara's agreement to take part that brought others to the table and helped to create the momentum for an unparalleled international historical undertaking. (The National Security Archive was one of the co-organizers of this project. For most of the sessions, the main academic organizers, and the pioneers of the critical oral history concept, were James G. Blight and janet M. Lang, currently at the Thomas J. Watson, Jr. Institute of International Studies at Brown University.)
Following a gathering at Harvard, another landmark session took place in Moscow in 1989 with the former long-time Soviet Foreign Minister, Andrei Gromyko, (and, for the first time, Cubans) in attendance. Antigua was the site of the next meeting two years later, followed by a first-ever critical oral history conference in Havana, with Fidel Castro, in 1992. Ten years later, McNamara led another U.S. delegation to Havana to mark the 40th anniversary of the crisis.
All of these meetings expanded our understanding of these events on a variety of levels, including bringing out the previously unexplored Soviet and Cuban sides of the crisis. The list of books attached to this posting that emanated directly from these conferences indicates their impact on scholarship.
McNamara's primary goal in these activities was not just to explore the past but to try to learn for the future. In this respect, Vietnam was a particularly crucial and searing event. Having written a major personal reassessment of the war – In Retrospect – in November 1995, he agreed to lead a delegation of former U.S. officials to Hanoi to begin another series of meetings, ultimately including a full-blown critical oral history session with one-time adversaries from North Vietnam and the Vietcong. The main event took place in Hanoi in June 1997 with several American and Vietnamese counterparts. A highlight was a one-on-one meeting with Gen. Vo Nguyen Giap. As with the Cuba conferences, this meeting generated worldwide headlines and produced new history, including the seminal volume Argument without End by McNamara, Blight et al.
In part based on these activities, McNamara tried to put on the public's radar the importance of avoiding the mistakes of the 20th Century which led to more than 160 million deaths in international conflict. His volume Wilson's Ghost (also written with Jim Blight) was an impassioned and widely praised argument for working toward a safer world, including eventually ridding the planet of its greatest danger, the presence of nuclear weapons. A similar goal explains his willingness to be at the heart of the uncompromising Errol Morris film, The Fog of War: Eleven Lessons from the Life of Robert S. McNamara, which was itself inspired by Morris's reading of Wilson's Ghost, and which won an Academy Award for best documentary feature in 2004.
For McNamara's critics, these exercises were little more than attempts to assuage a guilty conscience and paper over a blood-soaked personal record. For most of those who participated with him, however, there was no mistaking the genuine fervor for learning from what he regarded as the mistakes of past policies, an objective he pursued with characteristic intensity and focus.
Few senior officials who exercised power over life and death for citizens or soldiers have ever taken upon themselves the kind of responsibility that Robert McNamara shouldered to look deeply into those decisions, open himself up to confrontation and attack, and come to grips with those human tragedies so as to help us all not to repeat them. We mourn his passing.
---
The following are some of the books McNamara wrote or that were produced directly as a result of historical projects he participated in. Beyond these volumes, those projects generated literally thousands of newspaper, magazine and TV stories around the world, and almost certainly have figured in every major scholarly account of the missile crisis and Vietnam that has appeared since.
On the Brink: Americans and Soviets Reexamine the Cuban Missile Crisis
by James G. Blight and David A. Welch (New York: Hill and Wang, 1989)
The Cuban Missile Crisis, 1962
by Laurence Chang and Peter Kornbluh (New York: The New Press, 1992)
In Retrospect: The Tragedy and Lessons of Vietnam
by Robert S. McNamara with Brian VanDeMark (Times Books, 1995)
Intelligence and the Cuban Missile Crisis
by James G. Blight and David A. Welch (London: Frank Cass, 1998)
Argument without End: In Search of Answers to the Vietnam Tragedy
by Robert S. McNamara with James G. Blight et al (PublicAffairs, 2000)
Sad and Luminous Days: Cuba's Struggle with the Superpowers after the Missile Crisis
by James G. Blight and Philip Brenner (New York: Rowman and Littlefield, 2002)
Cuba on the Brink: Castro, the Missile Crisis, and the Soviet Collapse
by Bruce J. Allyn, James G. Blight and David A. Welch (New York: Rowman and Littlefield, 2002)
Wilson's Ghost: Reducing the Risk of Conflict, Killing, and Catastrophe in the 21st Century
by Robert S. McNamara with James G. Blight (PublicAffairs, 2003)
The Fog of War: Lessons from the Life of Robert S. McNamara
by James G. Blight and janet M. Lang (New York: Rowman and Littlefield, 2005)
---
Note
In Retrospect: The Tragedy and Lessons of Vietnam, with Brian VanDeMark (Times Books, 1995).
Participants at the 40th anniversary conference on the Cuban missile crisis, Havana, October 2002.
McNamara makes a point to Castro in Havana.
In Havana in 2002, McNamara breaks bread with (from left) ex-KGB officer Nikolai S. Leonov, Svetlana Savranskaya of the National Security Archive, retired U.S. diplomat and historian Raymond L. Garthoff, and former Soviet Deputy Foreign Minister Georgy Kornienko.
McNamara discusses his book, Argument without End, at Brown University in 1999 with (from left) National Security Archive Director Tom Blanton, Vassar College historian Robert K. Brigham and Brown University's James G. Blight.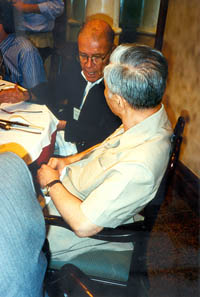 McNamara and former North Vietnamese Deputy Prime Minister and Foreign Minister Nguyen Co Thach during a lunch break at the Hanoi conference, June 1997.